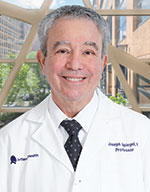 Joseph R Spiegel
MD
Jefferson Health Provider Jefferson University Physician
Academic Title
Professor
Co-Director, Voice and Swallowing Center

Specialty
Otolaryngology

If you have a Jefferson Health MyChart account you can directly schedule within MyChart.
Overview
Departments & Programs
Conditions
Central Sleep Apnea
Hay Fever
Hoarseness
Spasmodic Dysphonia
Stuffy Nose
Tonsillitis
Vocal Fold Paralysis
Vocal Fold Scarring
Treatments
Esophageal Dilatation
Laryngotracheal Reconstruction
Microlaryngoscopy
Neuromuscular Electrical Stimulation
Tests
Endoscopic Swallowing Evaluation
Laryngeal Electromyography
Education & Fellowships
University of South Carolina School of Medicine, Medical School
Jefferson Medical College of Thomas Jefferson University, Medical School
Residency: University of Michigan Hospitals and Health Centers
Fellowship: University of Michigan Hospitals and Health Centers
Hospital Affiliation
Jefferson Health New Jersey
Thomas Jefferson University Hospital
Jefferson Methodist Hospital
Magee Rehabilitation Hospital
Insurances Accepted
Jefferson physicians accept most health insurance plans, including those listed below. However, plan acceptance may vary by practice and may be subject to change. If you have questions about whether a specific physician accepts your insurance, please contact your insurance company.
Aetna Better Health
Aetna HMO, PPO POS
Aetna Medicare
Aetna PA Employee Benefit Trust Fund (PEBTF)
Allwell from PA Health & Wellness Health Plan
Ambetter
Amer Assoc Retired Persons (AARP)
AmeriHealth
AmeriHealth Comprehensive
AmeriHealth HMO
AmeriHealth Major Medical
AmeriHealth Personal Choice
Amerihealth Caritas
BC BS Special Care
Blue Choice
Blue Cross/Blue Shield
Blue Cross/Blue Shield of Delaware
Cigna HMO, PPO, POS
Cigna Healthspring
Clover Health Plan
Consumer Health Network PPO
CorVel
Coventry/Health America
Devon
Evolutions (Guardian Resources)
Federal BCBS
First Health Network
Galaxy
Geisinger Health Plan
Health America PPO
Health Management Network PPO
Health Partners Medicare
Horizon Blue Cross/Blue Shield
Horizon HMO
HumanaChoicePPO,Medicare,GoldPlusHMO
Intergroup Preferred
Keystone 65 HMO
Keystone First
Keystone First VIP Choice
Keystone Health Plan East
Medicaid of PA
Medicare
Mercy LIFE
Multiplan INC.
Oxford of PA
PA Health & Wellness Community Health Choice (CHC) Health Plan
Personal Choice (GPPPN)
Personal Choice 65
Prime Health Services, Inc.
Private Healthcare Systems (PHCS)
Qualcare
UPMC HMO,PPO ReadingHspEmpONLY
UPMC Medicare HMO
US Family Health Plan
United AARP Medicare Complete
United Healthcare
Notes
Voice/vocal cord specialists
Publications
Locations
925 Chestnut Street
Floor 6
Philadelphia, PA 19107
Phone: (215) 955-6760
Fax: (215) 503-3736

Get Directions
2211 Chapel Avenue West
Suite 403
Cherry Hill, NJ 08002
Phone: (856) 922-5030
Fax: (856) 662-2545

Get Directions