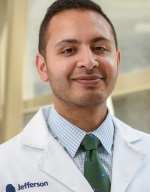 Syed O Shah
MD,MBA
Jefferson University Physician
Academic Title
Assistant Professor

Specialty
Neurology > Stroke

If you have a Jefferson Health MyChart account you can directly schedule within MyChart.
Overview
Departments & Programs
Conditions
Treatments
Hospital Affiliation
Thomas Jefferson University Hospital
Jefferson Methodist Hospital
Insurances Accepted
Jefferson physicians accept most health insurance plans, including those listed below. However, plan acceptance may vary by practice and may be subject to change. If you have questions about whether a specific physician accepts your insurance, please contact your insurance company.
Aetna
Aetna Better Health
Aetna Medicare
Aetna PA Employee Benefit Trust Fund (PEBTF)
AmeriHealth
AmeriHealth Comprehensive
AmeriHealth HMO
AmeriHealth Personal Choice
Blue Cross/Blue Shield
Cigna Healthspring
Cigna PPO, POS
Clover Health Plan
Consumer Health Network PPO
CorVel
Devon
Evolutions (Guardian Resources)
Federal BCBS
Geisinger Health Plan
Health America PPO
Health Management Network PPO
Horizon Blue Cross/Blue Shield
HumanaChoicePPO,Medicare,GoldPlusHMO
Keystone 65 HMO
Keystone First
Keystone First VIP Choice
Keystone Health Plan East
Medicare
Mercy LIFE
MultiPlan Inc.
Personal Choice (GPPPN)
Personal Choice 65
Prime Health Services, Inc.
Qualcare
UPMC HMO,PPO ReadingHspEmpONLY
UPMC Medicare HMO
US Family Health Plan
United AARP Medicare Complete
United Healthcare
Publications
Publications for this physician are currently unavailable.
Locations
909 Walnut Street
2nd Floor, COB Building
Philadelphia, PA 19107
Phone: (215) 955-7000
Fax: (215) 955-1113

Get Directions
909 Walnut Street
Philadelphia, PA 19107
Phone: (215) 955-7000
Fax: (215) 503-2452

Get Directions