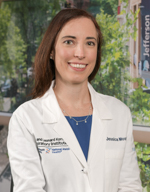 Watch Video
Jessica E Most
MD
Jefferson University Physician
Academic Title
Assistant Professor

Specialty
Pulmonology

Overview
Departments & Programs
Conditions
Education & Fellowships
Drexel University College of Medicine, Medical School
Internship: Drexel University College of Medicine
Residency: Drexel University College of Medicine
Fellowship: Yale University School of Medicine
Board Certification
Critical Care Medicine
Internal Medicine
Pulmonary Diseases
Hospital Affiliation
Thomas Jefferson University Hospitals
Jefferson Methodist Hospital
Insurances Accepted
Jefferson physicians accept most health insurance plans, including those listed below. However, plan acceptance may vary by practice and may be subject to change. If you have questions about whether a specific physician accepts your insurance, please contact your insurance company.
Aetna
Aetna Better Health
Aetna Medicare
Aetna PA Employee Benefit Trust Fund (PEBTF)
Amer Assoc Retired Persons (AARP)
AmeriHealth
AmeriHealth Comprehensive
AmeriHealth HMO
AmeriHealth Major Medical
AmeriHealth Personal Choice
Amerihealth Caritas
BC BS Special Care
Blue Choice
Blue Cross/Blue Shield
Blue Cross/Blue Shield of Delaware
Cigna Healthspring
Cigna PPO, POS
Consumer Health Network PPO
CorVel
Coventry/Health America
Delaware Blue Cross/Blue Shield
Devon
Empire BC/BS
Employers Health Network PPO
Evolutions (Guardian Resources)
Federal BCBS
First Health Network
Galaxy
Geisinger Health Plan
Health America PPO
Health Management Network PPO
Horizon Blue Cross/Blue Shield
Horizon HMO
HumanaChoicePPO,Medicare,GoldPlusHMO
Inter-County Health Plan
Intergroup Preferred
Keystone 65 HMO
Keystone First Community HealthChoices
Keystone First VIP Choice
Keystone First VIP Community HealthChoices
Keystone First/Connect
Keystone Health Plan East
Medallion of New Jersey
Medicaid of PA
Medicare
Mercy LIFE
MultiPlan Inc.
NJ Blue Shield
NJ Plus
Oxford of PA
PPO Next
Personal Choice (GPPPN)
Personal Choice 65
PlanCare America
Postal Workers/Mailhandlers
Preferred Care PPO
Premier Blue
Prime Health Services, Inc.
Private Healthcare Systems (PHCS)
Qualcare
Tricare
UPMC Community Health Choices (CHC)
UPMC For Life
UPMC HMO,PPO ReadingHspEmpONLY
UPMC Medicare HMO
US Family Health Plan
United AARP Medicare Complete
United Healthcare
Personal Statement
"I believe in partnering with patients on their care. Patients know what works best for them and using a shared decision making model, I provide my expertise and patients provide the rest. Communication is key to a successful physician and patient relationship, and I strive to keep those lines of communication open. I also know that sometimes it is necessary to think outside the box, and I am always open to new ideas and therapies."
Awards
Excellence in Teaching 2016
Gold Humanism Honors Society 2013
Contact Us
New or returning patients can complete our secure, online appointment request form. A representative from Jefferson will contact you by email to confirm your appointment.
If you'd rather speak with a JEFF NOW® representative, click 1-800-JEFFNOW below. You will then be prompted to enter your phone number.
Call 1-800-JEFFNOW