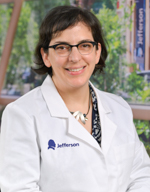 Abigail L Kay
MD
Jefferson Health Provider Jefferson University Physician
Academic Title
Assistant Professor

Specialty
Psychiatry

If you have a Jefferson Health MyChart account you can directly schedule within MyChart.
Overview
Departments & Programs
Conditions
Adjustment Disorders
Alcohol Induced Liver Disease
Alcoholic Hepatitis
Drug Induced Hepatitis
Panic Disorder
Personality Disorders
Phobia
Seasonal Affective Disorder
Education & Fellowships
University of Medicine and Dentistry of New Jersey, Medical School
Residency: Thomas Jefferson University Hospitals
Hospital Affiliation
Thomas Jefferson University Hospital
Insurances Accepted
Jefferson physicians accept most health insurance plans, including those listed below. However, plan acceptance may vary by practice and may be subject to change. If you have questions about whether a specific physician accepts your insurance, please contact your insurance company.
Allwell from PA Health & Wellness Health Plan
Ambetter
Clover Health Plan
CorVel
Geisinger Health Plan
Health Partners Medicare
HumanaChoicePPO,Medicare,GoldPlusHMO
PA Health & Wellness Community Health Choice (CHC) Health Plan
Awards
Philadelphia Magazine's Top Docs 2021, 2020, 2019, 2018
Publications
Locations
1020 South 21st St
21st & Washington Ave
Philadelphia, PA 19146
Phone: (215) 735-5979

Get Directions
33 South 9th Street
Suite 210
Philadelphia, PA 19107
Phone: (215) 955-8420
Fax: (215) 955-8473

Get Directions