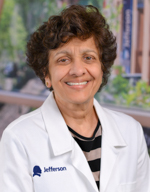 Ritu G Grewal
MD
Jefferson Health Provider Jefferson University Physician
Academic Title
Associate Professor

Specialty
Sleep Medicine

If you have a Jefferson Health MyChart account you can directly schedule within MyChart.
Overview
Departments & Programs
Conditions
Advanced Sleep Phase Syndrome
Asbestosis
Bronchiectasis
Bronchiolitis
Central Sleep Apnea
Chronic Bronchitis
Circadian Rhythm Sleep Disorders
Delayed Sleep Phase Syndrome
Dyspnea
Influenza
Occupational Lung Disease
Pleural Effusion
Pneumonia
Pulmonary Fibrosis
Shift Work Sleep Disorder
Treatments
Chronotherapy
Dental Appliances
Positional Therapy
Tests
Actigraphy
Arterial Blood Gas
Berlin Questionnaire
Epworth Sleepiness Scale
Fatigue Severity Scale
Maintenance of Wakefulness Test
Multiple Sleep Latency Testing
Thoracentesis
Education & Fellowships
All-India Institute of Medical Sciences, Medical School
Internship: Long Island College Hospital
Residency: Long Island College Hospital
Fellowship: North Shore University Hospital
Fellowship: New York-Presbyterian University Hospital of Columbia and Cornell
Fellowship: Thomas Jefferson University Hospitals
Hospital Affiliation
Thomas Jefferson University Hospital
Jefferson Methodist Hospital
Insurances Accepted
Jefferson physicians accept most health insurance plans, including those listed below. However, plan acceptance may vary by practice and may be subject to change. If you have questions about whether a specific physician accepts your insurance, please contact your insurance company.
Aetna Better Health
Aetna HMO, PPO POS
Aetna Medicare
Allwell from PA Health & Wellness Health Plan
Ambetter
Amer Assoc Retired Persons (AARP)
AmeriHealth
AmeriHealth Comprehensive
AmeriHealth HMO
AmeriHealth Major Medical
AmeriHealth Personal Choice
Amerihealth Caritas
BC BS Special Care
Blue Choice
Blue Cross/Blue Shield
Blue Cross/Blue Shield of Delaware
Cigna HMO, PPO, POS
Cigna Healthspring
Clover Health Plan
CorVel
Coventry/Health America
Devon
Evolutions (Guardian Resources)
Federal BCBS
First Health Network
Galaxy
Geisinger Health Plan
Health America PPO
Health Partners Medicare
Horizon Blue Cross/Blue Shield
Horizon HMO
HumanaChoicePPO,Medicare,GoldPlusHMO
Intergroup Preferred
Keystone 65 HMO
Keystone Health Plan East
Medicaid of PA
Medicare
Multiplan INC.
Oxford of PA
PA Health & Wellness Community Health Choice (CHC) Health Plan
Personal Choice (GPPPN)
Personal Choice 65
Private Healthcare Systems (PHCS)
Qualcare
US Family Health Plan
United AARP Medicare Complete
United Healthcare
Notes
Dr. Grewal's research and clinical interests include sleep issues in women and sleep disordered breathing.
Publications
Locations
211 South 9th Street
Floor 5
Philadelphia, PA 19107
Phone: (215) 955-6175
Fax: (215) 955-9783

Get Directions