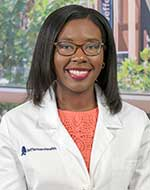 Krys E Foster
MD,MPH
Jefferson Health Provider Jefferson University Physician
Academic Title
Clinical Assistant Professor

Specialty
Family Medicine

If you have a Jefferson Health MyChart account you can directly schedule within MyChart.
Overview
Departments & Programs
Education & Fellowships
Northwestern University, Feinberg School of Medicine, Medical School
Residency: Thomas Jefferson University Hospitals
Hospital Affiliation
Thomas Jefferson University Hospital
Insurances Accepted
Jefferson physicians accept most health insurance plans, including those listed below. However, plan acceptance may vary by practice and may be subject to change. If you have questions about whether a specific physician accepts your insurance, please contact your insurance company.
Aetna Better Health
Aetna HMO, PPO POS
Aetna Medicare
Aetna PA Employee Benefit Trust Fund (PEBTF)
Allwell from PA Health & Wellness Health Plan
Ambetter
AmeriHealth
AmeriHealth Comprehensive
AmeriHealth HMO
AmeriHealth Major Medical
AmeriHealth Personal Choice
Amerihealth 65
Amerihealth Caritas
BC BS Special Care
Berkshire Health Partners
Blue Choice
Blue Cross/Blue Shield
Blue Cross/Blue Shield of Delaware
Cigna HMO, PPO, POS
Cigna Healthspring
Clover Health Plan
Consumer Health Network PPO
CorVel
Coventry/Health America
Devon
Evolutions (Guardian Resources)
Federal BCBS
First Health Network
Fortified Provider Network
Galaxy
Geisinger Health Plan
Health America PPO
Health Management Network PPO
Health Partners Medicare
Horizon Blue Cross/Blue Shield
Horizon HMO
HumanaChoicePPO,Medicare,GoldPlusHMO
Intergroup Preferred
Keystone 65 HMO
Keystone First
Keystone First VIP Choice
Keystone Health Plan East
Medicaid of PA
Medicare
Mercy LIFE
Multiplan INC.
Mutual Omaha Preferred
One Net PPO
Oxford of PA
PA Health & Wellness Community Health Choice (CHC) Health Plan
Personal Choice (GPPPN)
Personal Choice 65
Prime Health Services, Inc.
Private Healthcare Systems (PHCS)
Provider Select Inc
Qualcare
UPMC HMO,PPO ReadingHspEmpONLY
UPMC Medicare HMO
US Family Health Plan
United AARP Medicare Complete
United Healthcare
Workers Comp
Personal Statement
"Dr. Krys Foster, MD is a family physician in Philadelphia, PA. She is currently licensed to practice medicine in Pennsylvania. She has interests in academic medicine, with a focus on teaching, community health education, diversity research, adolescent health, and research in health disparities for underserved groups. Many of the health conditions that we treat are preventable. Meet with your physician at least once a year to discuss evidence-based recommendations to prevent future disease."
Locations
33 South 9th Street
Suite 301
Philadelphia, PA 19107
Phone: (215) 955-7190
Fax: (215) 923-9186

Get Directions